The purpose of this software is to help the technicians employed in maintenance of parking meters with a device that speeds up the collection of control and maintenance data.
1. Program features:
Administration through Excel of database with parking meter list, operators name, type of more common failures, list of assistance requests. These files are automatically synchronized between the palm sized handheld PC and the main system.

Automatic import in an Excel document of the information gathered by the technicians.

Different handling of the lifecycle of periodic assistance and assistance on demand.

Various possibility of data input:
* Choice from lists synchronized with the main database.
* Handwriting integrated in the palm size handheld PC.
* Acquisition of the id of a parking meter through bar code scanning.

Automatic indication of date and time.
2. Operational description: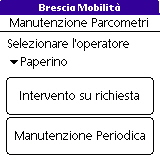 Initial display:
In this display there is the planning of the operator name and the selection of operating mode, periodical or on demand.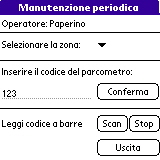 Periodical Maintenance Mode:
In this display it's possible to select the working parking meter in 3 different ways:
Selecting the zone in which we are and searching in the list the wanted unit. (See figure 3).

Inserting via handwriting the desired parking meter code.

Acquiring directly from the parking meter its code using the barcode scanner integrated in the palm handheld PC.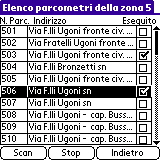 List of the parking meters in a zone:
After selecting a zone (Figure 2), it is shown the parking meters list that belong to the zone. Every meter is identified by its code, location and state of execution, in order to give to the human operator a simple memo, as an help to reduce the errors.
On demand Maintenance Mode:
In a list are shown all the parking meters for which is requested an urgent assistance. This list is automatically downloaded on the palm handheld PC at every synchronization and it can be simply prepared with an Excel document.
It is however possible to do maintenance on a parking meter that isn't in the list, simply inserting its code; that can be done using the writing system of the palm handheld (graffiti) or the integrated barcode reader.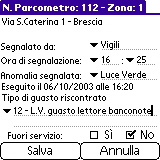 Input of maintenance data:
In this display it's possible to insert the data with the details of the work done. The date and hour are directly received by the palm handhed system clock and a series of controls forbid the memorization of incomplete data. The palm handheld registers also the operator name and the modality of parking meter selection indicating if the operator has inserted manually the code or he has used the barcode scanner.