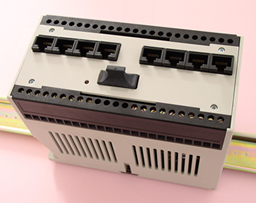 The diffusion of local area networks and particularly of Ethernet networks in an industrial environment is steadily growing;there are always more request for high speed communication with high reliability products. Sm@rtSwitch in its various configurations is the product that surely satisfies the constraints of an heavy environment; the simplicity of use, thanks to the automatic identification of the transmission speed and negotiations of line parameters, to the identification of the polarity and of the type of used wiring, allows an easy use, reducing the installation cost.
A particular feature has been engineered to allow the notification of functional anomalies through relais contacts that can be connected to a supervisory PLC.
The equipment can also be used as protocol converter between copper twisted pair cable and multimodal or monomodal optical fiber, to extend the maximal distance of the connections up to 2 or 15 km.
The production and engineering of Sm@rtSwitch are entirely made in Italy, a guarantee of quality and reliability and of constant availability of the product over the years.
• 8 ports with automatic switching between 10 and 100 Mb/s : it executes the packet switching at the highest speed possible
• Assembly with screws or DIN guide with rapid coupling: ideal for the use in industrial environment
• Complete scalability: the 100Base-FX connection with multimodal optical fiber (full duplex ) allows a secure connection, immune to electromagnetic disturbances, up to 2 km away (optionally 15 km with monomodal fiber)
• Auto-MDIX: it identifies automatically and it conforms to the used wiring, direct or cross, for an extreme facility of use
• The redundant supply allows 2 different power sources
• The state of connection on the 10/100Base-Tx ports is marked by the closing of a potential free contact; so it becomes easy to control the connections' state
• It measures the input rate of multicast and broadcast packets; in the case there are more than 54 such packets consecutively from a same ports, they are rejected for the successive 800 milliseconds, in order to avoid the block of the network.
General technical features
Supply input voltage 18-30 Volt (other range on request), with redundant input
Supply power 12 W (max)
Working temperature: from 0 to +600 C
Storage temperature: from 40 to +850 C
Size: 149 mm (width) , 75 mm (height), 114 mm (depth)
Interfaces: 8 100Base-TX ports, 1 100Base-FX port, 8 output realis contacts n.o. 2A 250 V A.C./D.C.
Mounting: with 2 fixing screws in accordance to DIN 46121 and DIN 43660 norms on rail mount in accordance to DIN 46277 and EN50022 norms
100Base-TX interface technical features
Signaling: 10Base-T in accordance to IEEE 802.3, I00Base-TX in accordance to IEEE 802.3u
Ports: 8
Speed: 10 Mb/s, 100 Mb/s with IEEE 802.3x flow control and speed automatically negotiated
Connectors: RJ-45, MDI/MDI-X automatic crossover
Maximum cable width: 100 m
100Base-FX interface technical features
Signaling: 100Base-FX 1300 nm
Ports: 0 or 1
Speed: 100 Mb/s
Connectors: duplex SC (standard) , ST (on request)
Maximum fiber length: 2 km with multimodal fiber (standard), 15 km with monomodal fiber (on request)