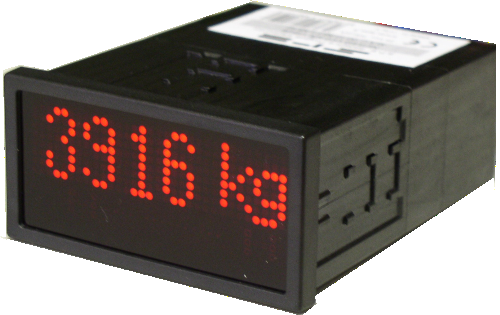 The Netled process display module monitors measurement signals and displays them with high resolution and accuracy. They permit universal installation, e.g. in switch panels, control rooms, with laboratory equipment, plant facilities, and fixed or mobile skids.
The Netled process display is connected directly into an Ethernet 10/100 Base T network, using the Modbus/TCP protocol, or to a standard RS-232-C interface using the Modbus or JBUS protocols.
Setting up the displays' measurement range and unit description string, decimal point and offset, is done directly from the Modbus/TCP command interface. As an option it is also possible to set up the display using two front mounted push buttons.
Setting up can be done at any time including during operation therefore later settings are unproblematic.
Typical application areas are:
Plant and machine construction

Control panels

Laboratory fittings

Process recording, monitoring
Benefits at a glance
dot matrix 32 x 8 LED display, 20 mm high characters, 4 fonts already embedded, more can be optionally delivered

Measurement range software programmable

Flexible measurement range set up using Modbus/TCP interface ( 2 push buttons as an option)

Ethernet interface 10/100 Base-T

Power supply 24 V DC, 12 W maximum power

RS-232-C interface

2 ratiometric 10 bit analog inputs (e.g. for reading potentiometers)

4 digital optocoupled inputs (e.g. for reading switch status)

1 relay driven output

serial or TCP/IP Modbus protocols

serial JBUS protocol
The most important technical data
Inputs: 2 ratiometric 10 bit analog inputs (e.g. for reading potentiometers);
4 digital optocoupled inputs (e.g. for reading switch status)
Outputs: 1 relay driven output
Protection: Front ingress IP65, rear IP20,
Size: 96 x 48 x 119 mm (W x H x D)