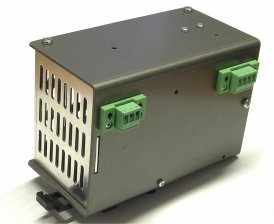 This particular device sources a maximum direct current of 5 Ampere with a precise output voltage of 24 Volt even with fluctuating input supply voltage and is well suited to an industrial environment usage.

Output currents higher than 5 Ampere can easily be obtained using 2 power supplies connected together.

The power source doesn't need a cooling fan for normal operation and has 82,50 mm width, 157 mm height and 105 mm depth; it has an IP20 protection degree and can be easily mounted on a 35 mm standard DIN rail. Thanks to its reduced weight (only 1,1 kg), to the compact size and easy mounting, this device is really easy to install and use.